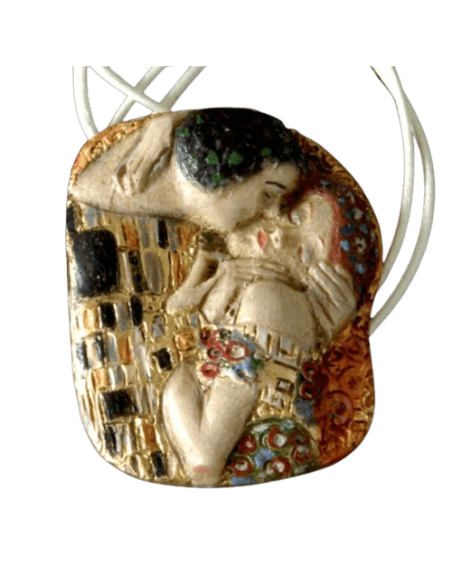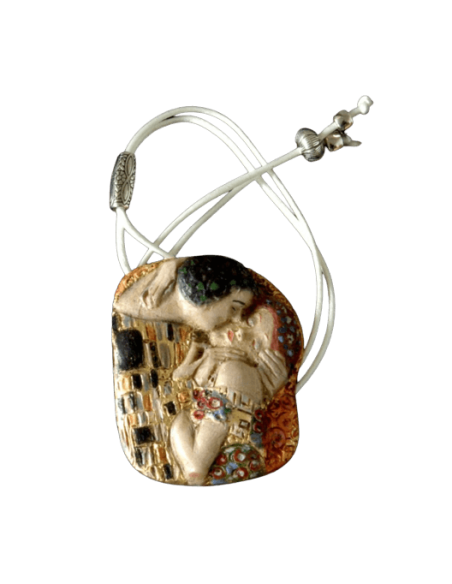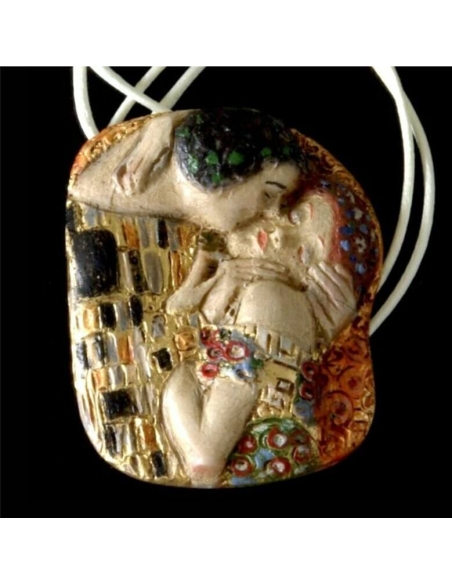 Medallion The Kiss after Gustav Klimt.
The "Kiss" Medallion by Gustav is an exceptional piece of jewelry that captures the essence of beauty and passion.
Inspired by the iconic artwork of the renowned Austrian artist, Gustav Klimt (1862-1918), "The Kiss". A painting that, according to Klimt, represents the triumph of love, this meticulously crafted pendant offers a faithful and captivating interpretation of the original masterpiece.
Characteristics of the Medallion:
Height: 7.5 cm.
Width : 6 cm.
Material : Moulded alabaster, gilded and oil polychromed, antique patina.
Handmade reproduction, entirely made and hand-patinated.

In stock.
The Medallion "The Kiss" after Gustav Klimt: A symbol of eternal love.
The pendant depicts the famous embracing couple, expressing a passionate and intimate kiss. The exquisite details and vibrant colors of the original artwork are beautifully reproduced, adding a touch of elegance and romance to this unique piece of jewelry.
Carefully made.
The pendant is meticulously crafted using high-quality materials such as alabaster. It is a soft and translucent rock, typically white or slightly tinted, which exhibits transparency and luminescence properties when carved and polished.
Due to its beauty and unique characteristics, alabaster has been used since ancient times to create sculptures, reliefs, vases, and other decorative objects. It is appreciated for its ability to allow light to pass through, creating a luminous and mysterious effect. Alabaster can be precisely sculpted and used to create delicate and intricate details.
Every detail is meticulously worked on to capture the finesse and beauty of Klimt's artwork, creating a durable and refined piece of jewelry.
An elegant and symbolic accessory.
This pendant is more than just jewelry; it is a timeless symbol of love and genuine human connection.
Wear it with pride and let it testify to your appreciation for art and your refined taste. It will add an touch of elegance and deep meaning to your personal style.
Delivery Time: Delivery within 15 to 25 days.
Delivery times vary depending on the availability of our stock and demand.
If the desired pendant is not immediately available, we will promptly contact you via email to inform you of the additional average production time expected by our workshop.
International shipments are guaranteed at the most economical rates.
Shipping Fees: The shipping fees for available carriers are automatically calculated when you place your order.