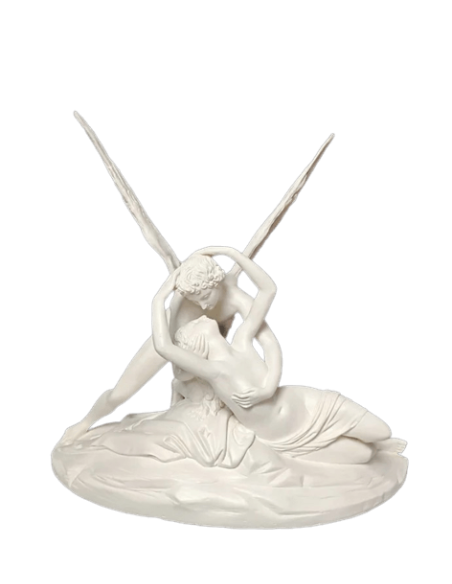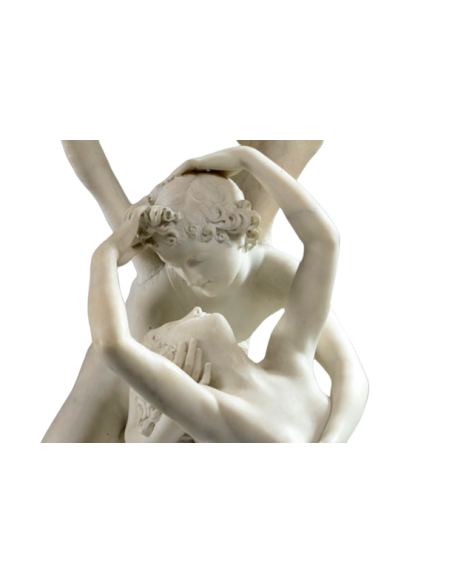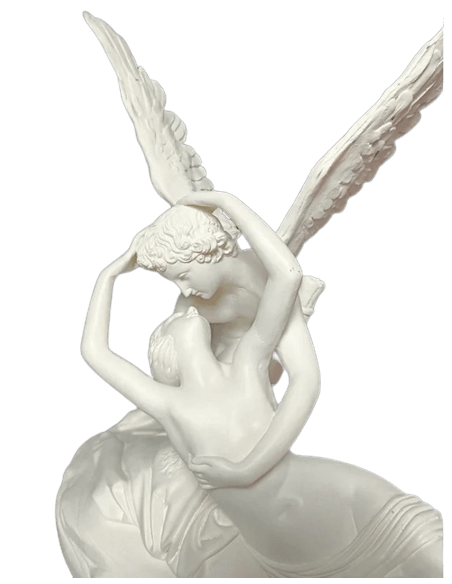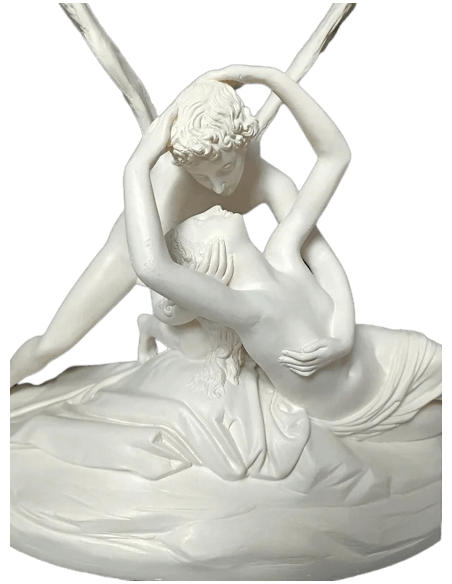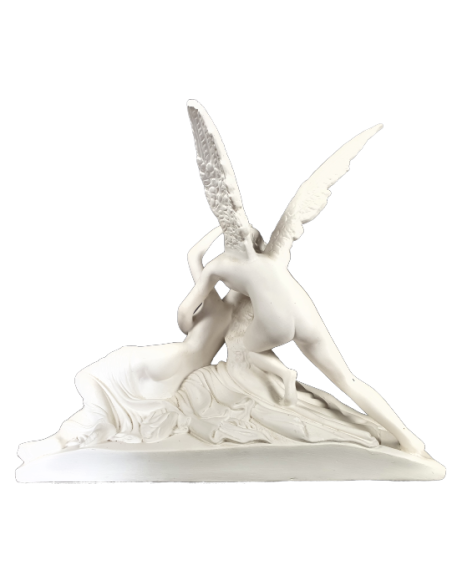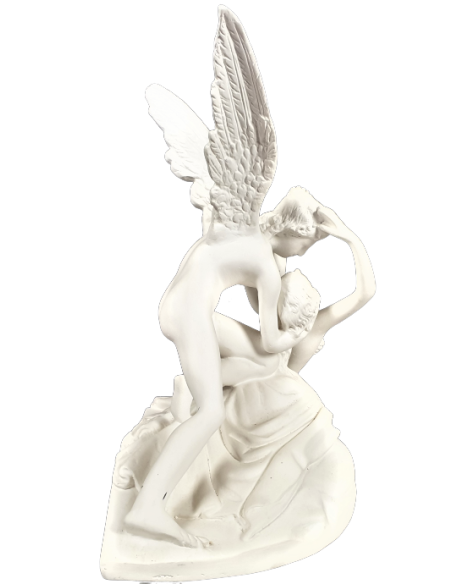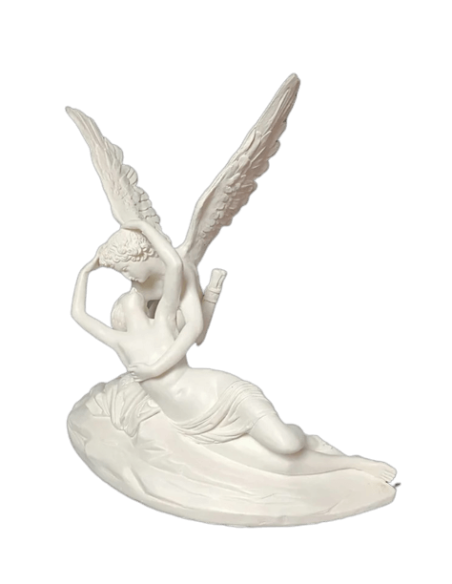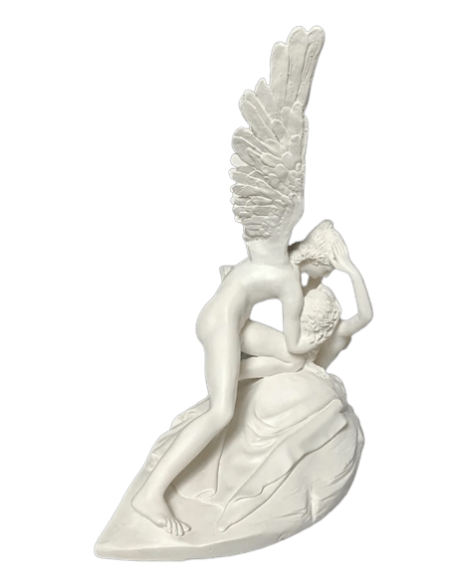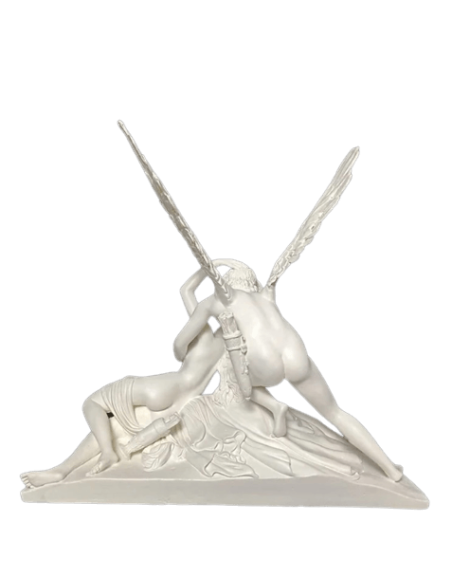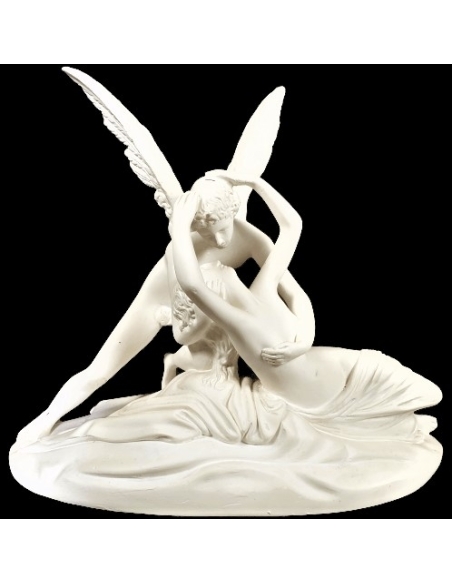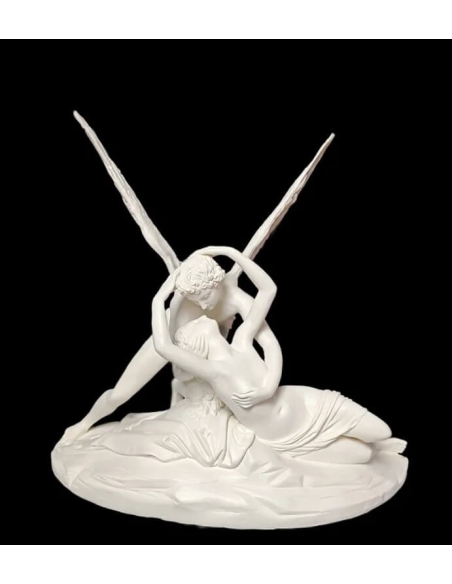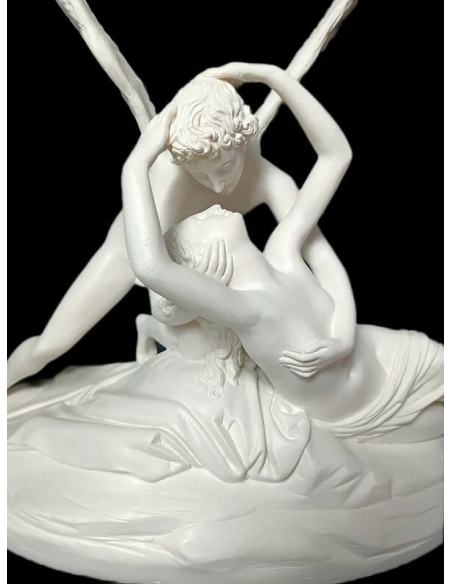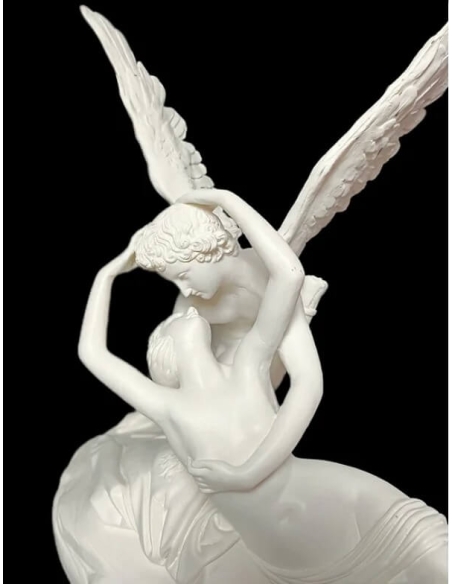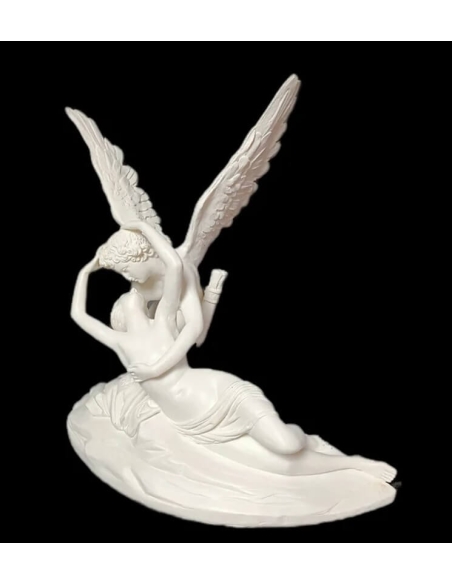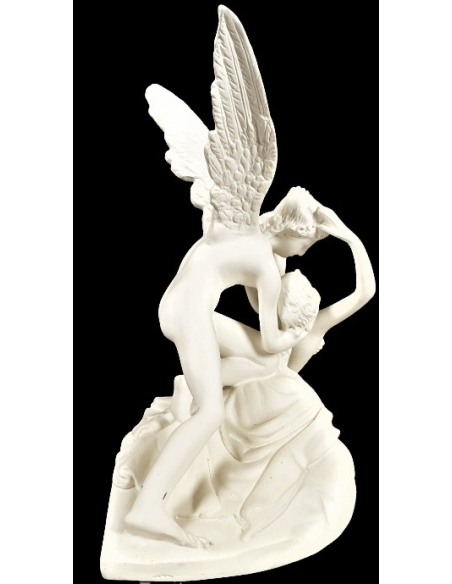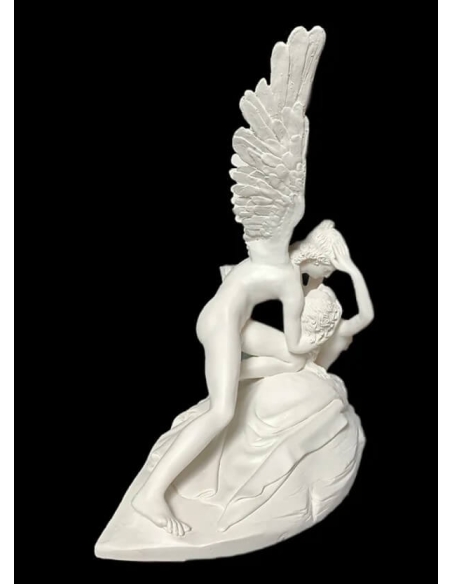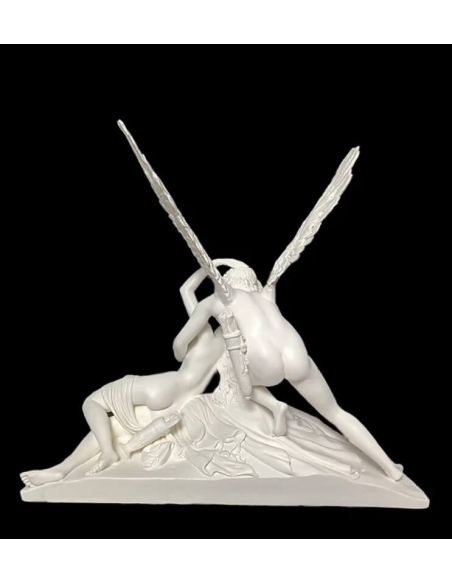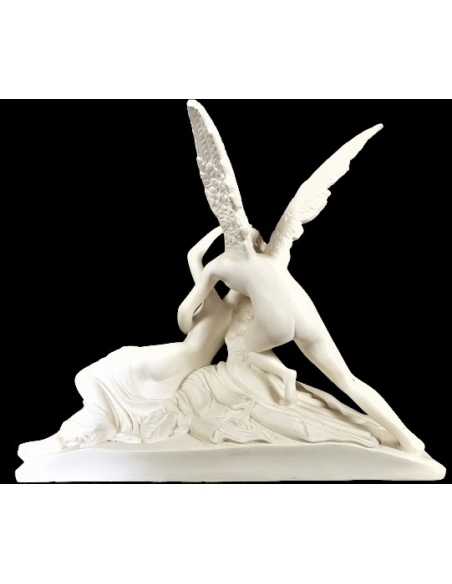 Statue of Psyche Revived by Cupid's or The Kiss after Antonio Canova.
Capture the timeless beauty of one of the most famous sculptures by the Neoclassical artist Antonio Canova with this exceptional replica of "Psyche Revived by Cupid's Kiss" or "The Kiss."
This captivating work of art is an exceptional and exclusive interpretation of the original sculpture, which is considered one of Canova's most iconic masterpieces. Immerse yourself in the world of Greek mythology and let this sculpture evoke powerful emotions in your living space.
The Legend of Psyche and Cupid.
At the heart of this sculpture lies a timeless love story. According to Greek mythology, Psyche was a princess of extraordinary beauty who caught the attention and envy of the goddess of love, Aphrodite. To punish Psyche, Aphrodite ordered her son, Cupid, to make her fall in love with an ugly man. However, when Cupid saw Psyche's beauty, he was enchanted by her grace and decided to help her. In this sculpture, we see the magical moment when Cupid revives Psyche with a kiss, saving her from eternal sleep.
Antonio Canova was an Italian sculptor born on November 1, 1757, in Possagno, in the Republic of Venice, and passed away on October 13, 1822, in Venice. He is considered one of the great Neoclassical artists of his time.
Among Antonio Canova's most famous works are "Psyche Revived by Cupid's Kiss," "The Genius of Dance," "Cupid and Psyche," and "Napoleon as Mars the Peacemaker Disarming Venus." These sculptures illustrate his talent for representing beauty and human emotions with great technical mastery.
Features of our "Psyche Revived by Cupid's Kiss" Statue:
Height: 45 cm.
Material: white plaster.
Other available materials: resin, reconstituted stone.

This reproduction is available for sale in plaster, polyester resin or reconstituted stone, and patinated (or not) in bronze, terracotta, marble, wood, polychrome, gilt, stone or diorite. Do not hesitate to consult us for the different prices (according to the patinas and materials).
Handcrafted reproduction entirely made and patinated by hand.
In stock.
Let yourself be transported by the beauty and grace of "Psyche Revived by Cupid's Kiss."
The exquisite details of an unparalleled sculpture.
The exquisite details of this replica of the sculpture "Psyche Revived by Cupid's Kiss" are remarkable. Every aspect has been meticulously crafted to preserve the grace and delicacy of the original work created by Canova.
The sculpture highlights the elegant posture of Psyche, delicately depicted lying down. Every curve of her body has been carefully sculpted to convey an impression of grace and timeless beauty. Psyche's position creates an atmosphere of calmness and serenity, evoking a charming scene of awakening.
Cupid, represented as a winged youth, tenderly leans toward Psyche. The delicate wings of Cupid are precisely detailed, giving the impression of lightness and movement. Cupid's facial expression is full of sweetness and compassion, highlighting the benevolent nature of his gesture.
The smooth lines and graceful curves of both bodies create a sense of fluid and harmonious movement. Every fold of the fabric has been meticulously worked, giving the impression of lightweight and billowing cloth. These details contribute to the illusion of life and interaction between the two characters, enhancing the emotion and beauty of the scene.
As a whole, the sculpture evokes a scene of eternal love, capturing the moment when Psyche is revived by the kiss of Cupid. Every detail, whether it's the facial expressions, the positions of the hands, or the folds of the clothing, is executed with remarkable precision to bring this mythological scene brimming with emotion to life.
When admiring this sculpture, we are transported to a world of love and tenderness. The exquisite details capture our attention and allow us to immerse ourselves in this timeless scene. It is a tribute to Canova's talent and his ability to create works of exceptional beauty and expressiveness.
Beauty and aestheticism.
The striking aestheticism of this replica cannot leave anyone indifferent. By carefully observing the graceful curves of the bodies and the delicate facial expressions, one perceives the beauty and harmony emanating from the sculpture. Every meticulously crafted detail contributes to creating a captivating visual symphony, thus generating a profound appreciation for art and artistic skill.
Emotion and connection with the mythological story.
This reproduction of Antonio Canova's work also evokes deep emotion and connection with the mythological story of Psyche and Cupid. By reading the legend accompanying the sculpture, we are transported to a world where gods and goddesses interact with humans. The sculpture allows us to feel the intense emotions associated with this forbidden love and the determination of Cupid to save Psyche.
A torrent of personal emotions.
Each person can also experience personal and unique emotions when contemplating this exceptional sculpture. Whether it's joy, nostalgia, awe, or reflection, every individual can project their own experiences and emotions onto this great work of art. The sculpture invites one to explore their own feelings and find a personal connection with the artwork. Fascination and awe.
When observing the sculpture of "Psyche Revived by Cupid's Kiss," one experiences a first wave of fascination and awe. The sculpture, depicting the moment when Love revives Psyche with a kiss, captures the intensity of that magical instant. The exquisite details and the beauty of the forms generate awe in the expression of love and life emanating from the artwork.
Romance and passion.
The sculpture of "Psyche Revived by Cupid's Kiss" also evokes deep feelings of romance and passion. The shared kiss between Psyche and Love is a powerful symbol of true love and deep emotional connection. When contemplating the sculpture, one experiences that fiery passion and is transported to the world of romance and intense feelings. A blend of eternity and fragility.
When observing the sculpture of "Psyche Revived by Cupid's Kiss," we encounter a complex blend of eternity and fragility. The artwork represents a moment of eternal love but at the same time evokes the vulnerability of Psyche and the fragility of human emotions. This duality invites reflection on the transient nature of our existences.
High-quality materials and meticulous craftsmanship.
Made with high-quality materials, this replica is the result of meticulous craftsmanship and careful attention to detail. Every curve, every fold of fabric, and every facial expression is meticulously worked to recreate the beauty and emotion of the original artwork. The materials used, such as white plaster, polyester resin, or reconstituted marble, ensure exceptional durability and resistance, allowing this sculpture to endure over time.
A versatile and captivating piece of art.
This replica of "Psyche Revived by Cupid's Kiss" is a versatile piece of art that can add a touch of elegance to various living spaces. Whether in the living room, bedroom, or workspace, this sculpture will be a captivating focal point that will inspire admiration in all who contemplate it. Additionally, it can also be used to enrich art collections and curiosity cabinets, adding a classical dimension to any environment. A timeless gift.
If you're looking for a memorable gift for an art lover or mythology enthusiast, this replica of "Psyche Revived by Cupid's Kiss" is a perfect choice. Its refined aesthetic and symbolic meaning make it a gift that will be cherished and valued for years to come. Give someone special this exceptional piece that embodies beauty, love, and eternity.
Place your order now.
Add a touch of magic and romance to your living space with this stunning replica of "Psyche Revived by Cupid's Kiss." Place your order now and let this magnificent sculpture tell an eternal story in your environment. Whether for your personal enjoyment or to gift an extraordinary present, this replica is a work of art that will light up the eyes of all who contemplate it.
Delivery time: Delivery within 7 to 15 days.
Shipping costs are calculated automatically when you complete your purchase at checkout.
Delivery times may vary depending on the availability of our pieces. If the piece is not immediately available, we will contact you promptly via email to inform you of the estimated average time by our workshop.
Average production times for the main stages valid for all pieces: Mold production time for a piece: 1 month. Time for edition of a piece: 1 day. Finishing time for a piece: variable from one piece to another, on average one week. All our pieces are handmade in the purest tradition of the great art molding workshops.
As a provider for public institutions and art schools, we offer most of our pieces for rental and sale (theater, cinema, fashion shows, professional events...).