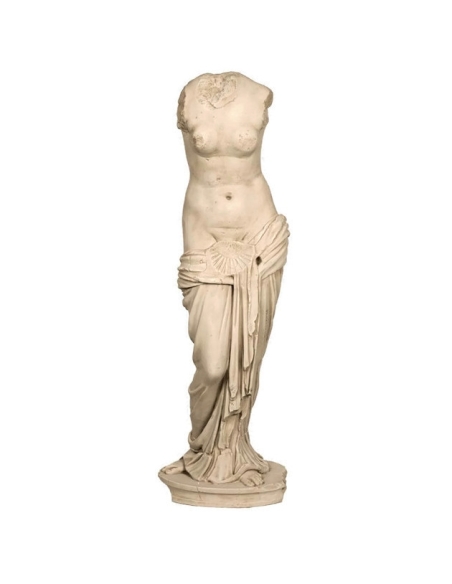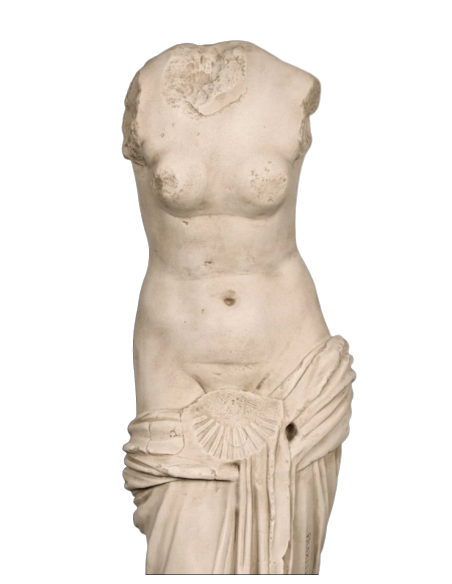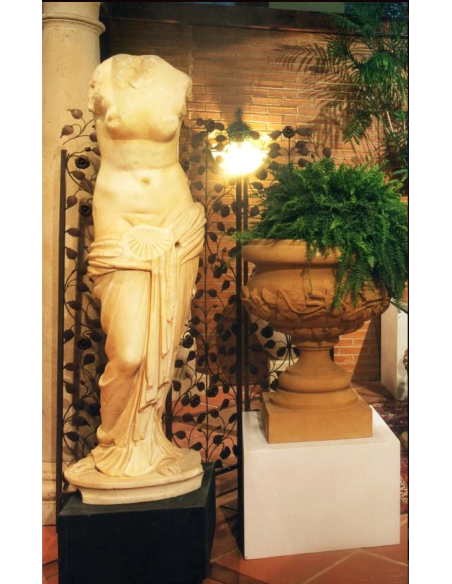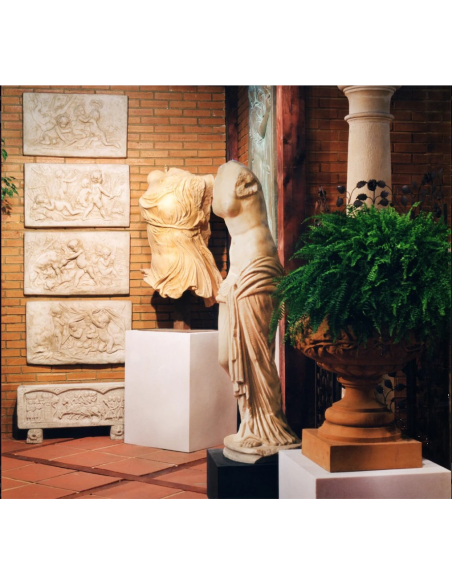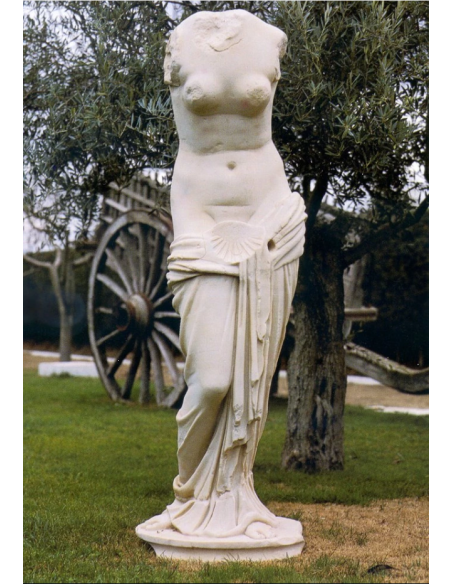 Statue of Venus Anadyomene from the Prado Museum or Venus with a shell after Praxiteles.
Statue of Venus Anadyomene from the Prado Museum or Venus with a shell after Praxiteles.
Discover the splendor of the Venus Anadyomene statue from the Prado Museum, a faithful reproduction of the original artwork created by the famous Greek sculptor Praxiteles.
The Venus Anadyomene statue from the Prado Museum is a classic representation of Venus, the goddess of love and beauty.
Its uniqueness lies in its pose, as it depicts Venus emerging from the water, hence its name "Anadyomene," which means "rising from the sea."
This representation highlights the sensuality and grace of Venus, adding a touch of dynamism and movement to the sculpture.
This magnificent piece of art captures the timeless beauty and grace of Venus, the goddess of love and seduction.
Characteristiques of the Statue of Venus Anadyomene
Dimensions
Height: 160 cm.
Width: 50 cm.
Depth: 50 cm.
Weight: 65 Kg
Material: reconstituted marble (marble dust + high density resin).
Handcrafted reproduction, fully made and patinated by hand.
Available in stock.
Dive into the world of Greek mythology and eternal beauty with the statue of Venus Anadyomene or Venus with Shell, based on the work of Praxiteles.
This reproduction is based on the artwork of the famous sculptor Praxiteles, known for his creations of great delicacy and striking realism.
The ideal of feminine beauty.
Venus is a goddess from Roman mythology, equivalent to Aphrodite in Greek mythology. She is often associated with love, beauty, seduction, and fertility.
Venus is considered the goddess of feminine beauty and is often depicted as a seductive and graceful figure.
According to mythology, Venus was born from the foam of the sea and was revered as a powerful deity.
She is often depicted with attributes such as roses, seashells, and doves. Venus plays a significant role in many legends and mythological stories, and her influence extends to both art and literature.
The Legacy of Praxiteles.
Praxiteles was a famous ancient Greek sculptor who lived in the 4th century BC. He is considered one of the greatest sculptors of the classical period.
Praxiteles revolutionized the art of sculpture by introducing more human-like representations and capturing the very essence of female beauty, as can be seen in this statue.
Praxiteles was known for his talent in depicting female beauty, and his marble sculptures were renowned for their realism and grace. One of his most famous works is the statue of the goddess Aphrodite, also known as the Venus of Cnidus.
Praxiteles made significant contributions to the development of Greek sculpture, and his work has had a lasting influence on Western art.
A Masterpiece of Beauty.
This statue embodies the very essence of femininity and seduction. With its elegant pose and graceful silhouette, it evokes admiration and wonder.
The original Venus Anadyomene statue from the Prado Museum is captivating and fascinating. Its elegance, beauty, and exquisite craftsmanship are undeniable.
This sculpture often elicits emotions such as admiration, wonder, and an aesthetic appreciation for art and culture.
It embodies the grace and power of the goddess Venus, capturing the attention and imagination of viewers.
Pure Emotion Unleashed.
As you gaze upon our reproduction of the Venus Anadyomene statue, you will be swept away in a whirlwind of emotions.
The serene expression and perfect curves of the goddess will captivate you, evoking a mix of admiration, fascination, and wonder at her timeless beauty.
The meticulously sculpted details of the goddess's sensual curves and the fabric draped and cascading languidly along her hips add a touch of delicacy and refinement to this exceptional piece.
Crafted with Care and Precision.
Our Venus Anadyomene statue is meticulously handcrafted using a blend of high-quality reconstituted marble powder and high-density resin.
Every detail of the artwork has been meticulously molded to faithfully reproduce the original piece from the Prado Museum, ensuring an exceptionally high-quality sculpture.
For Indoor and Outdoor Decoration.
This versatile statue is suitable for both indoor and outdoor decor.
It will add a touch of sophistication to your living room, garden, or patio. Transform your home by creating an atmosphere filled with beauty and elegance.
Fast Delivery and Quality Service.
We are committed to delivering your statue within an average of 10 to 15 business days, in carefully designed packaging to ensure its protection during transport.
Order now and let this elegant statue illuminate your space with its unique presence!
Delivery times may vary depending on the availability of our stock and demand.
If the reproduction you desire is not immediately available, we will contact you by email to inform you of the additional average manufacturing time expected by our workshop.
Guaranteed international shipping at the most economical rates.
Shipping Costs: The shipping costs of the available carriers are automatically calculated at checkout.